Опубликовано: 4 года назад
Paintball fill station «Automat professional»
Заправочные станции, Пейнтбольное оборудование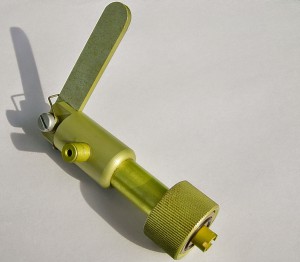 HIGHLIGHTS FROM TRADITIONAL ONBOARD TANK STATIONS:
● The station can be under pressure constantly.
● The gas supply and discharge of the container from the station takes a single turn of the lever to 90 °.
Connecting fill station to the source of compressed gas (tank):
1. Screw the nut on the cylinder valve with thread G3/4′ until it stops.
2. Very slightly open valve or just connect the filling device into the station and open the cylinder valve slowly up to self-locking valve station.
3. Connect the filling device to the filling station. Gently turn the lever to start the gas supply (not necessarily every time bring to the stop lever) to wait for the filling, return the lever to its original position and disconnect the charger set.
4. To remove the station from the cylinder, valve must be closed. Turn the lever up to full discharge gas from the cavity of station. Gas discharge desirable smoothly for not take off the O-ring from Foster.
5. Do not use the station with removed (bronze) filter.
SAFETY REQUIREMENTS
● Use of compressed gas source pressure not exceeding 300 bar (4400 pci)
● Do not use the station for refueling oxygen
● Do not press on the lever without a connected filling device, till station under pressure
● Protect the eyes during bypass and gas release
air, Automat professional, balloon, charge, CO2, compressed, cylinder, fill, fill station, foster, gas, marker, paintball, station